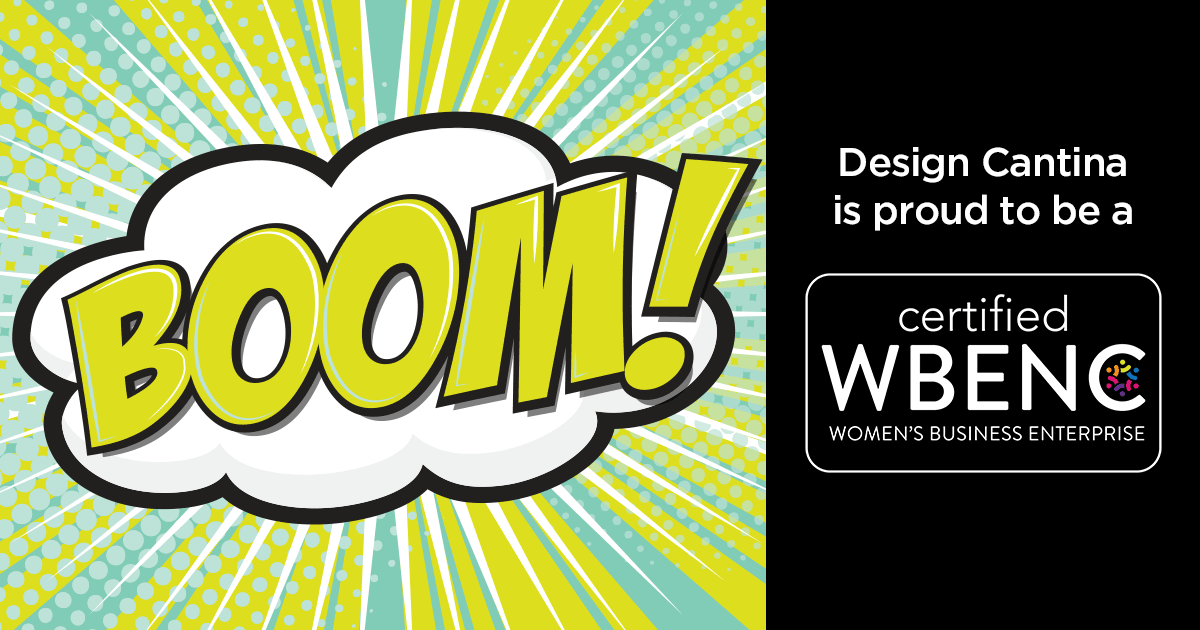 Design Cantina is a certified Women's Business Enterprise
Having faced the same hurdles as so many female creatives in an industry that can still only claim that about 12% of creative directors are women, being recognized as a woman-owned business is HUGE!
Reasons to work with a woman-owned business extend far beyond the notion of "equality" that the trailblazers who came before us (thankfully) strived for. Today's women business owners are the ones who grew up with working moms and role models who showed us that we had a choice: control our destiny… or else. The "or else" was never an option for me or any of the women business owners I know. We are strong, determined and we support each other unwaveringly. We are about winning, to be sure. But, we also understand that when one of us wins, we all win.
Why work with a certified woman-owned small business (WOSB)?
We are buyers
Women make 80% of consumer purchase decisions, as well as influence the other 20%.* We provide invaluable insight into customer mindset and bring a perspective of empathy, the core of design thinking.
Gender equity brings results
Gender equity means much more than leveling the "playing field". It means removing the barriers that prevent women from achieving the same success men that do, but also placing qualified women in key leadership roles. Women business owners are an invaluable resource for advice when it comes to building gender equity within your company. Organizations that support gender equity have experienced increased revenue, innovation, and performance.**
Research shows that gender diversity is associated with increased profitability and long-term value creation.†
We are a community
When I launched Design Cantina, I joined some amazing and powerful groups, such as Women In Digital. The collaborative nature of groups like this inspires idea sharing that we take back to our companies, organizations, and businesses. We bring the spirit of openness back to the companies we own and work for and we refer other women to do business with companies we trust.
We value partnerships with men
Being pro-woman in business does not mean being anti-man. Working together, we grow opportunities for all and generate a broader range of ideas that lead to greater success and opportunity for all.
Design Cantina is ecstatic to have earned our women-owned business certification from the Women's Business Enterprise National Council and become a new member of the Women's Business Council Southwest. We can't wait to do business with you!
* Women's Business Council Southwest
** Equity For Women
†McKinsey & Company's 2015 Why Diversity Matters via Women's Foodservice Forum